Elizabeth Hartman is a self-taught quilter from Portland, Oregon. She has been making things all her life but, after her first (admittedly disastrous) attempt at making a quilt, she was hooked and has been making quilts ever since.
In 2009, she left her corporate job to concentrate on quilting full-time. Since then, she has become known for her unique, modern quilt patterns and her popular blog, ohfransson.com.
Elizabeth Hartman is the author of the bestselling book, The Practical Guide to Patchwork, which won a 2011 Next Generation Indie Book Award. Her second book, Modern Patchwork, was released in May 2012. Her third book, Patchwork City was released in November 2014. She have been has also been featured in a variety of other books, publications, and media, including: Stitch, Quilt Scene, Fons & Porter's Love of Quilting,Patchwork Tsushin, and Quilting Arts TV. In 2014, Elizabeth started selling wholesale print patterns. More recently, she joined the Robert Kaufman Fabrics as a fabric designer and her new line Rhoda Ruth, will be shipping in Fall 2015.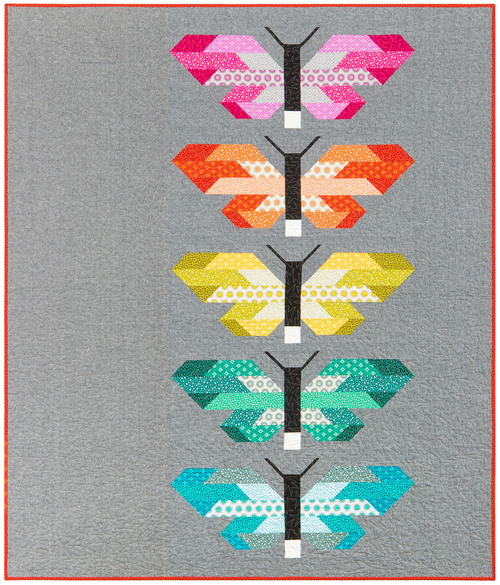 She will be teaching one of her new quilt patterns called, "Frances Firefly." Frances was first featured in Fancy Forest pattern. This firefly is now giant-sized and we love it! (pattern will be available Summer 2016)

Elizabeth's class at Sewtopia is co-sponsored by Robert Kaufman Fabrics. They was founded in 1942, this Los Angeles-based fabric manufacturer wholesales to the home sewing retail and manufacturing markets, with customers including manufacturers of finished goods, such as apparel, bedding and accessories, and retail customers whose end-users comprise home apparel and craft sewers. They're a family-owned company, made up of a closely knit, and strategic team.
They are a converter of quilting fabrics and textiles for retailers and manufacturers. RKF is a fabric supplier to many industries, including retail & quilting, home decor, uniforms, and the apparel industry. The company offers an extensive supply of cotton prints, novelty fabrics, yarn-dyes and solids, covering a full assortment of woven fabric offerings such as poplin, twill, denim, corduroy, linen, canvas, crepe, voile, lawn, flannel, stretch wovens, plaids, stripes, etc. Fiber contents include cotton, poly/cotton, polyester, linen, cotton/spandex, and various other blends.
Thanks Robert Kaufman for co-sponsoring Elizabeth class at Atlanta!