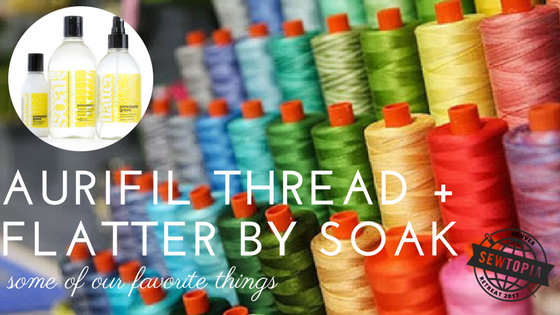 Sewtopia Denver is almost here! Packing can be difficult, but the sewing and fun will be easy! You know what makes your sewing a bit more fun and easy? The fact the Sewtopia will be stocked with Aurifil thread and Flatter spray by Soak. Aurifil and Soak have generously donated to all of our events and we really couldn't do it without them. Could you imagine a sewing room that isn't scented with the dreamy Soak scents or piecing your wonderful projects with a thread that isn't Aurifil? Gasp!
Recently at Quilt Market, both Soak and Aurifil debuted some new and exciting products!
Soak Wash has been smoothing out our wrinkles with their Flatter Smoothing Spray for years. It makes ironing easier with a starch-free smoothing spray that relaxes wrinkles and freshens fabrics. Flatter leaves fabric sleek, soft, and static-free. Plus, the mild formulation is easy on sensitive skin, and won't harm the environment. It's flat out fabulous! Soak recently debuted a new scent, Pineapple Grove, that you will get to try out this weekend! See if you recognize who did the label art! Be sure to head on over to the Soak Wash website to see their full line of products!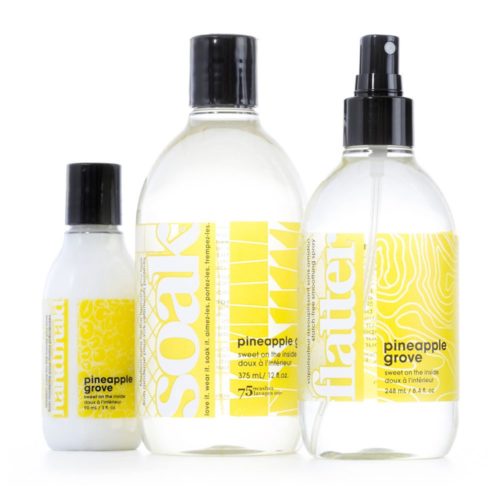 Available now, Aurifil newest thread, cotton 80 weight, the finest Egyptian cotton, for use by hand or machine. Your new 'go to' thread for appliqué and much more. Looking super fine there Aurifil! Be sure to check out all of Aurifil for all their amazing thread weights, including floss in all of their fabulous colors!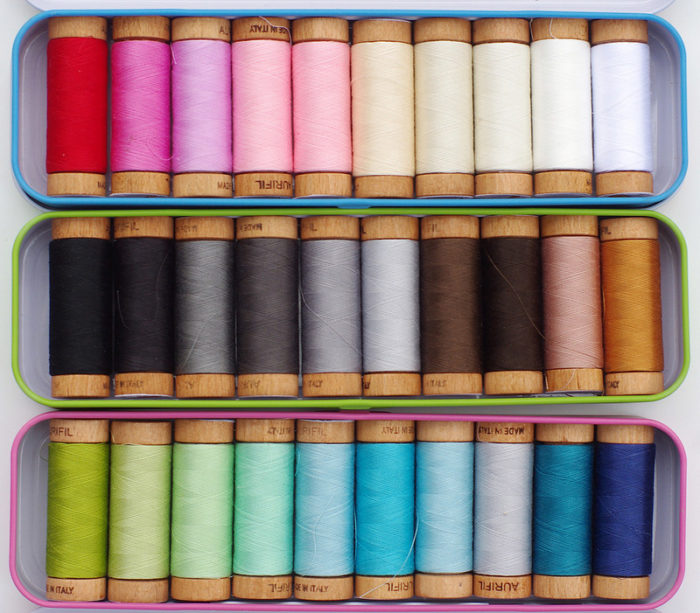 The history of Aurifil begins humbly in Italy, 1957, a young man by the name of Angelo Gregotti founded Studio Auriga, to produce designs for a multi head mechanical embroidery machine. It was the first and only company to undertake this type of work in Italy. In 1983 to offer a greater service to his customers, Angelo proposed to his school friend Adolfo Veronelli to join his project and start a new adventure producing thread. Their vision was to source the best Egyptian cotton and create thread to supply our customers with the greatest product on the market. Aurifil was born.
Elena Gregotti and Alex Veronelli as second generation joined the Company after graduating university. Elena soon discovered the quilt world and was fascinated firstly by what can only be described as works of art, masterpieces in fact. She proposed to her father to approach this market. It was obvious that the quilters knew quality when they saw it and we were astonished at the attention we received when we presented our product for the first time in the European Quilt Show in Strasbourg 2000. In 2007 we were ready for establishment in the United States and Aurifil USA was born.
A big thanks to both Aurifil and Soak for supplying us with some amazing products!