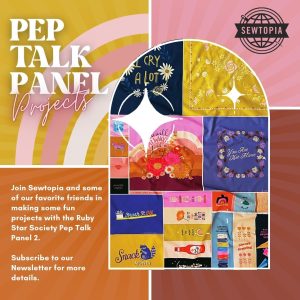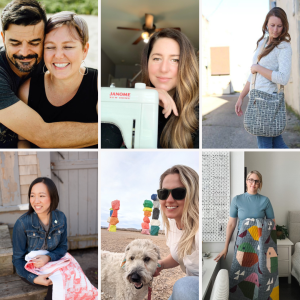 Sewtopia has teamed up with some of our favorite designers and friends to share with you some free projects and patterns using the Pep Talk 2 Panel from the Ruby Star Society. In no particular order, we have Amber from @OneShabbyChickHawaii, Anna from @NoodleHead531, Andrea @3rdStoryWorkshop, Megan @WhoLaLaCrafts, Lindsey @PenAndPaperPatterns and Tori @mtnairhandmade.Sew along with Sewtopia & Friends for the next few weeks! The Pep Talk Panel 2 includes a variety of shapes filled with encouraging words and real talk. Full instructions are included to make them into personal prize ribbons, zippers pouches, pillows, totes, and patches. They can also be incorporated in other projects.
For the next six weeks we will share a fun new pattern or project by one of our featured designers. Each designer will also hand select a custom give away bundle along with some other fun surprises! Want to sew along with us? Newsletter subscribers will automatically receive the pattern via our weekly newsletter. Sign up here!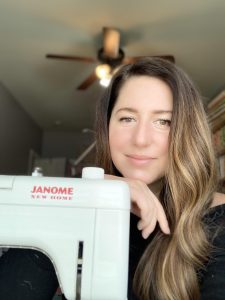 This week we are featuring Megan of WhoLaLaCrafts. Megan White Callahan is a quilter, technical editor, and freelance graphic designer working from her home in northern California. Her interest in sewing began in her 7th grade home economics class with a very ill-fitting pair of shorts and a small army of scrunchies. She transitioned to quilting in high school and has been honing her quilting and bag-making skills ever since. When she is not sewing or working in front of the computer, Megan spends her time cooking, baking, or enjoying the outdoors with her husband and twin daughters as well as a small menagerie of pets.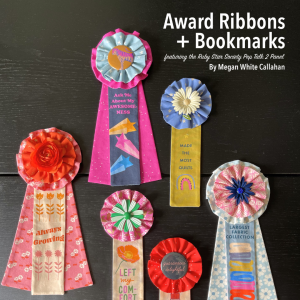 As a newsletter subscriber, you automatically get the pattern for free. Now it's your time to choose if you want to sew along. If you do sewalong and post your Award Ribbons & Bookmarks by Monday, August 15th 10PM PST on Instagram, you'll be eligible for the weekly prize pack, handcrafted, one of kind pincushion ring by Megan & a special curated bundle by from Sewtopia. *REMEMBER* to tag us and use the #SewtopiaIMadeThis