The Free-Wheeling Single Girl Sew-Along has been so much fun and we don't want it to end. That's why we've teamed up with Violet Craft to launch the Forest Abstractions Sew-Along!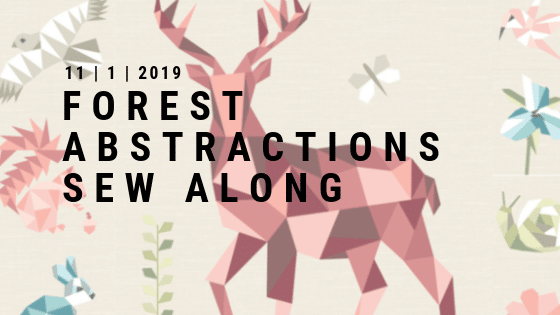 The Forest Abstractions has been recolored and refreshed and is looking forward to strutting it's stuff. This is a foundation paper pieced pattern that finishes at 56" x 60".
Join us for the fun or event if you want to brush up on your paper piecing mojo.
Forest Abstractions Sew-Along Schedule:
We'll be starting on November 1st for a gently paced 9 month sew-along. You can find all the fun on Instagram using #forestabstractionssal hashtag. If you're sewing with us be sure to follow ad tag your pictures so everyone can see your progress. There will also be a Facebook group to support each other and share your journey.
November:  Mouse + Butterfly block
December: Doe + Vine
January: Falcon + Snail
February: Stag
March: Squirrel + Wild Carrot
April: Coyote + Trillium
May: Rabbit + Humming Bird
June: Pine cone + Piecing Together
July: Finishing & quilting ideas & announcing the Grand Prize Winner
Each month we're taking is nice n' easy:
Week 1 - Block Instructions & fabric selections
Week 2 - Foundation Paper Pieced tips & tricks from Violet and Sewtopia
Week 3 - Piecing major sections & chatting with Violet
Week 4 - Posting finished block
Week 5 (beginning of the month) announce winner
What do you need to start? 
For the month of October, we're gathering our supplies and doing a pre-order on the kit & all the notions you'll need.
You'll need to Forest Abstractions Pattern, the pattern is available in our shop (Full set of paper pieced templates LINK TO PURCHASE) or you can buy the pdf download directly from Violet Craft (LINK TO PURCHASE)
Fill out the RSVP form (below) for weekly & monthly updates from us and Violet Craft.
Optional purchases:
Forest Abstractions Quilt Kit - This kit is the fabric only to make the quilt seen below.(LINK TO PURCHASE)
Forest Abstraction Quilt Kit + Paper Pattern (Optional) - This is the kit will be the pattern and the fabric to make the quilt seen below. (LINK TO PURCHASE)
Forest Abstraction Notion Kit (Optional) - this is supplies Violet has curated to make a successful foundation paper piecing project (LINK TO PURCHASE)
Forest Abstraction Combo Kit - both the fabric + notion kit + pattern, Sewtopia is making a combo deal for you. (LINK TO PURCHASE)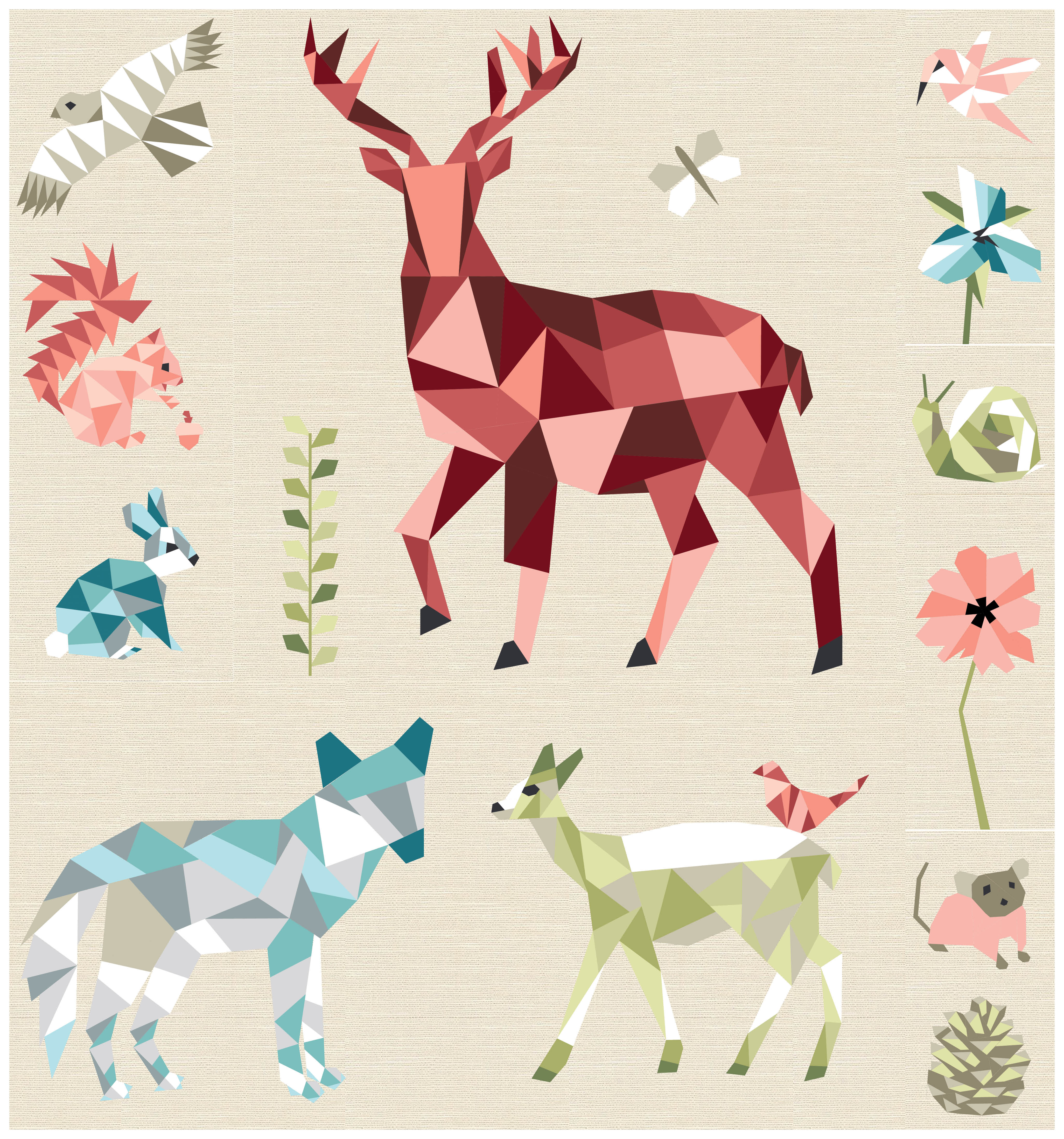 Starting December Sewtopia & Violet will be sweetening the sew-along with monthly prize drawings.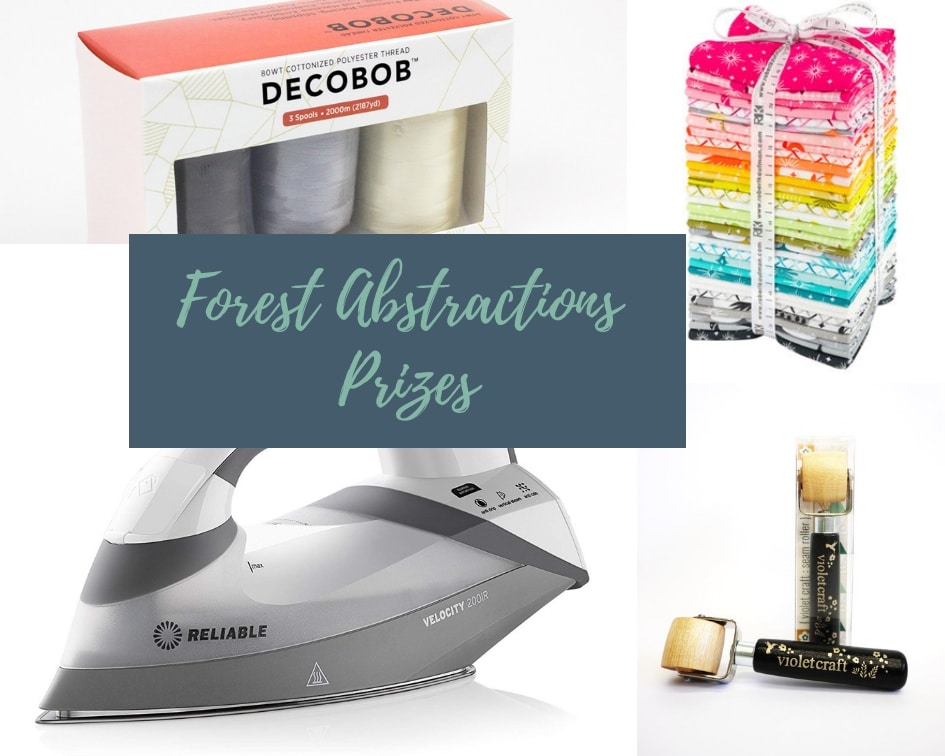 November: Forest Abstraction Notion Kit + Sewtopia Fabric Bundle
December - Forest Abstraction Notion Kit + Sewtopia Fabric Bundle
January - $25.00 gift certificate to Sewtopia Shop
February - Fat Quarter Bundle of Palm Canyon by Violet Craft valued
March - Wonderfil Decobob 3 Thread Pack + Violet Craft Pattern
April - Fat Quarter Bundle of Betty's Luncheonette by Violet Craft (not yet released)
May - Wonderfil Decobob 3 Thread Pack + Violet Craft Pattern
June - Pre-release Fat Quarter Bundle of Modern Classic by Violet Craft
July - $75.00 gift certificate to Sewtopia's Shop + a Reliable Velocity 200IR Iron + Violet Craft Surprise Pack
[googleapps domain="docs" dir="forms/d/e/1FAIpQLSfBK_khGUu5cz1LjIPJP4SZO2HNaCQzPtP9oUvdyziXj9lDxA/viewform" query="embedded=true" width="640" height="1287" /]