If you're attending Salt Lake City Sewtopia – we wanted you to meet the BERNINA team that will be there with you. Today they're sharing their favorite tips, notions, and BERNINA product.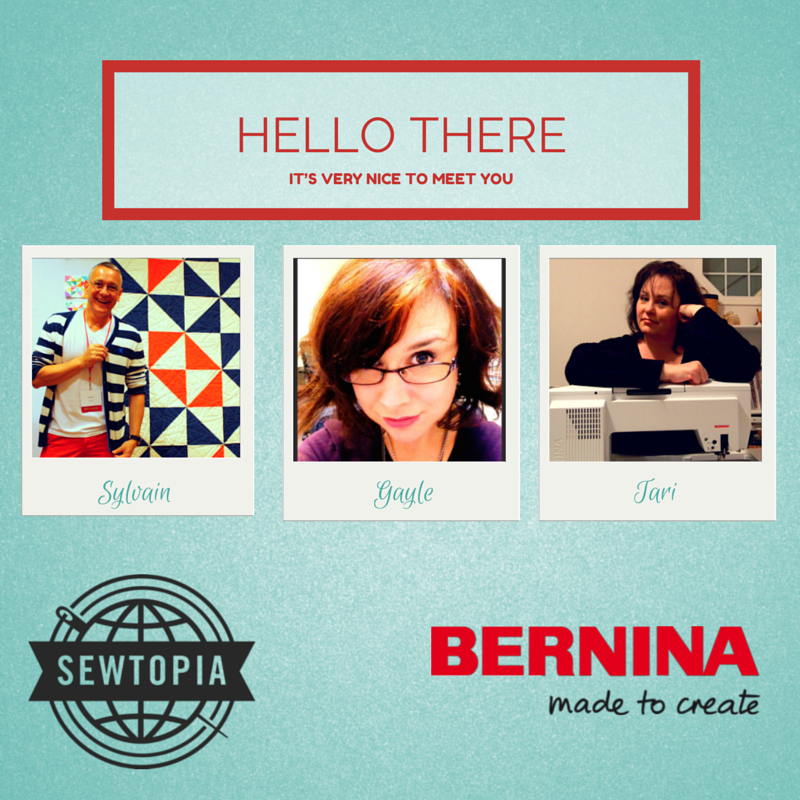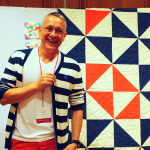 Sylvain Bergeron is an international award winning quilter and self proclaimed "Internet Plumber." He is a self-taught seamster and machine embroidery teacher who came into quilting 9 years ago when he asked himself a simple question, "What if embroidery were the quilt?" The answer came in the form of quilt tops containing anywhere from 1.25 to 3 million stitches where simple lines and color create complex images. He was the 2006 recipient of the Master Award for Thread Artistry at the Fall International Quilt Festival in Houston, TX, he won the Gold Prize at the 9th Quilt Nihon Exhibition in Tokyo, Japan and he won first place in the Houston Quilt Festival 2009 Computer Aided Machine Embroidery category.. He is a webmaster by trade and lives in Oswego, IL.
Sylvain's Favorite notion:
EZ Cut Rainbow scissors make it so easy to clip the little tiny threads that accumulate in machine embroidery and quilting projects.
Sylvain's Favorite tip:
Learn the no-pins method of sewing by Margaret Islander. It will do wonders for all your sewing! (including quilting)
Sylvain's Favorite Bernina Product:
My presser feet. As much as I'd like to think that I'm in charge when sewing it's the foot that actually handles the fabric at the stitching point. BERNINA feet (I have all of them…) make sure that I always have the best suited tool for each and every technique. That's really the secret sauce, helping me in my sewing and in getting better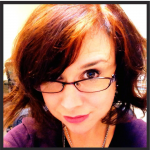 Gayle Schliemann was the little girl who asked her parents every year for a sewing machine and got every present under the sun BUT. Ironically, when she purchased her BERNINA it led to working for a BERNINA store, which led to opening her own store which led to working for BERNINA. Gayle is an expert sewist in all areas, but enjoys small intricate projects the most.
Gayle's Favorite Notion:
Water – Soluble thread which is good for basting, outlining areas of a quilt in which you want to quilt from the back, blind hems, marking stitching on a fly… many many things.
Gayle's Favorite Tip:
Can't decide if you need to pre-wash? Cut a piece of white fabric and sew swatches of the other fabrics in your project , then toss in the washing machine. If the colors do not run… don't wash. if they do, better pre-wash (or use a color catcher),
Gayle's Favorite BERNINA product:
BERNINA DesignerPlus Embroidery Software helps all of my drawings and projects come to life. I use it everyday. It's a time saver and helps me think through projects so they come out perfect (close to it at least) every time.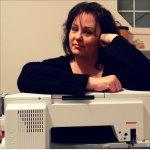 Tari Intardonato learned how to sew in her early teens and has been sewing ever since. She earned a Bachelor of Arts Degree in Vocational Home Economics and taught High School Home Economics in Oklahoma. Tari married and moved to the Dallas/Ft. Worth area. There she worked for several years for BERNINA Sewing Center of Dallas and Plano, selling their products and teaching classes in sewing techniques and operation of BERNINA machines. She later managed a BERNINA Sewing Center in a local Hancock Fabrics. Tari continued to teach classes in the BERNINA line, as well as sewing projects. You can see many of Tari's projects on her new blog: http://tariintardonato.blogspot.com/
Tari's Favorite Notion:
Rotary Cutter – especially if it is pretty!
Tari's Favorite Tip:
I love the BERNINA Free Hand System. It does 5 things I can't live without.
Raises the Presser Foot
Lowers the feed dogs – Only BERNINA does this!
Lifts to highest position
Releases tension
Saves 20% of sewing time!
Tari's Favorite BERNINA product: