Product Description
We're proud to announce our 17th event will be held from November 2nd - 5th in Nashville, Tennessee. Like our past events in Palm Springs, Orlando, Seattle, Boston, New Orleans, Austin, Portland, and Salt Lake City, this open sew weekend allows each attendee to have a weekend of uninterrupted time to cultivate their creative side with their sewing projects while socializing with friends, old and new.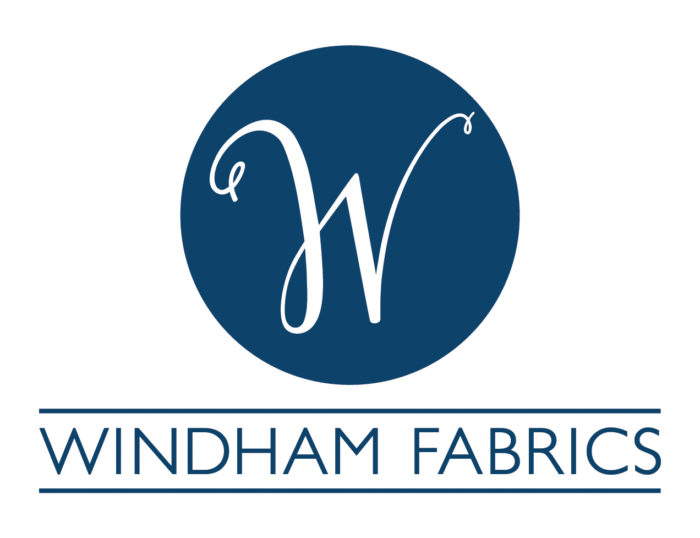 Prior to the event, Sewtopia works with Windham Fabrics to select 6 fabrics for our Fabric Challenge. A couple months before the event, every attendee will receive six fat quarters. Participation is optional for the Fabric Challenge but encouraged. The rules of the challenge are simple, you can use one or all the fabrics, just make sure that you only use Windham Fabrics with your creation. During check in attendees will be asked to submit their projects to be eligible for ribbons and prizes.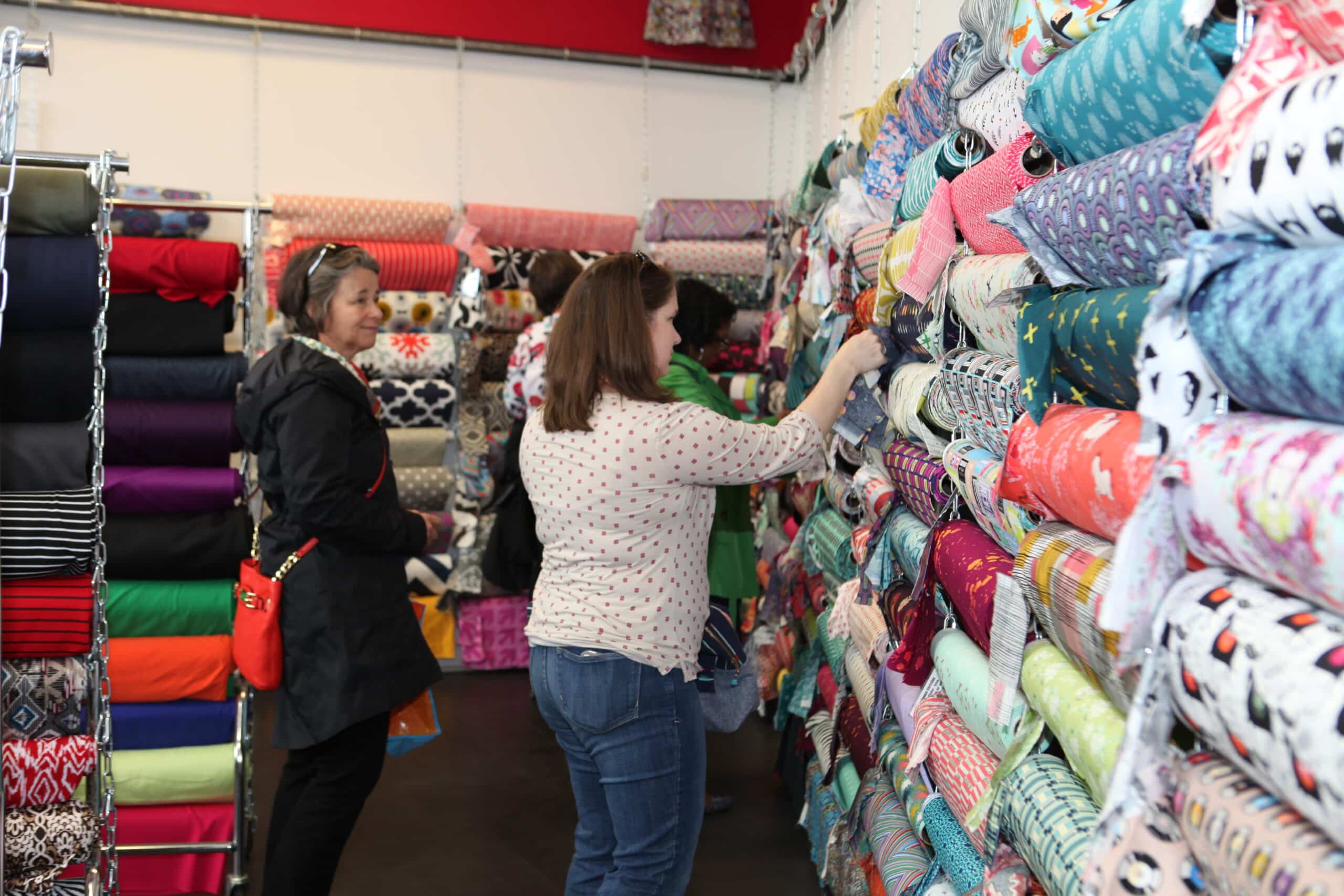 The best part of getting together for the weekend is letting us take you to the best fabric and quilt stores in the area. A shop hop is like a pub crawl, only you're shopping instead of drinking. More information will be released as we get closer to the event as well as confirmation of participation.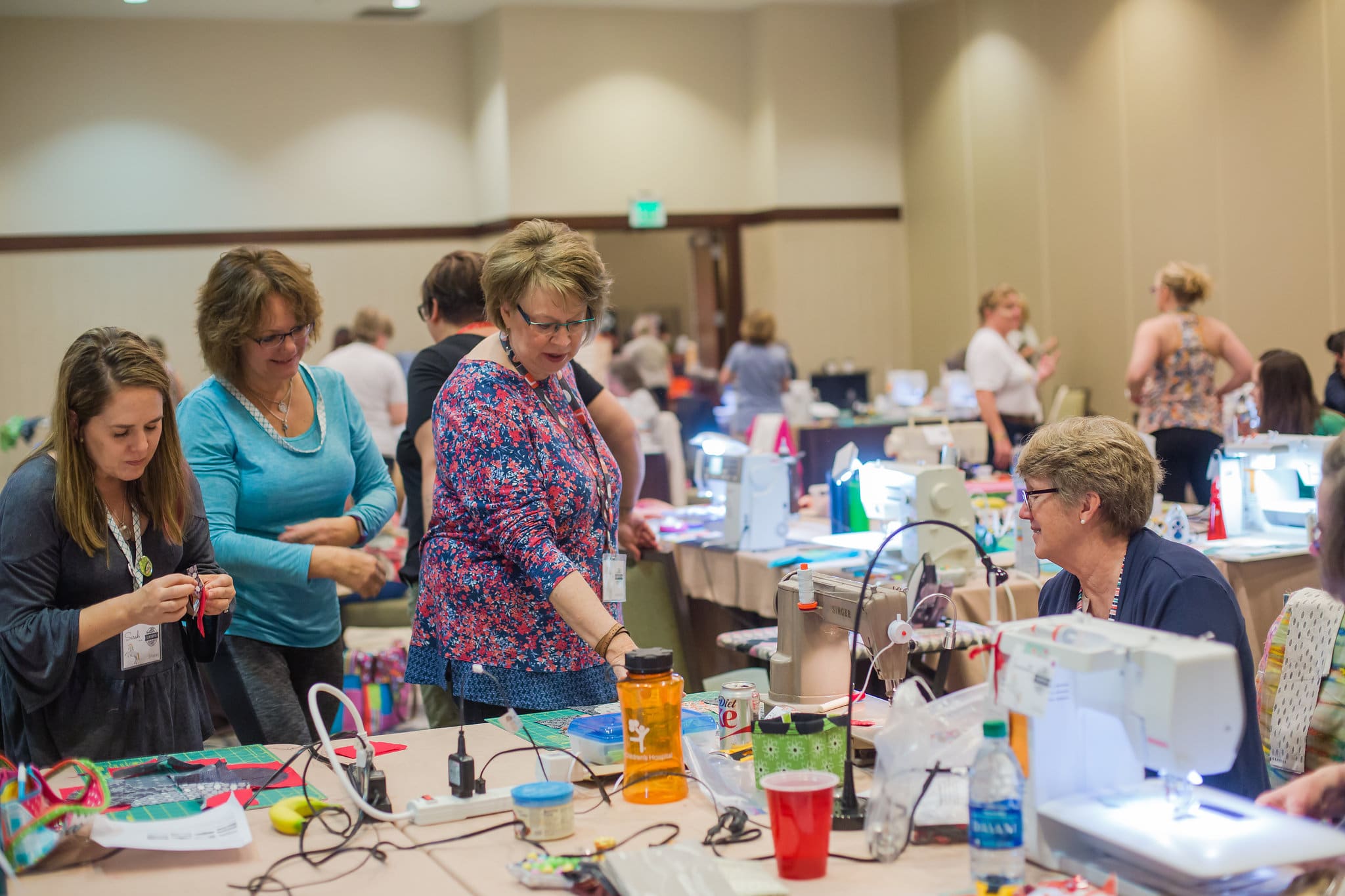 Sewtopia's Sewing Lounge will be open Thursday, November 2nd at 5pm and will close at midnight. It will reopen on Friday and Saturday at 8:00am and close at midnight. Sunday's hours will be 8:00am to noon.
Attendees will be contacted prior to the event regarding seating, we will assign you a table and table groups based off of your seating requests. If you're bringing a machine or items don't worry about carrying them back to your room – Sewtopia and the hotel will lock the main ballroom each night. This time is yours to finish up projects or sightsee with friends.
General tools will be provided in the sewing room like irons, cutting mats, and rotary cutters.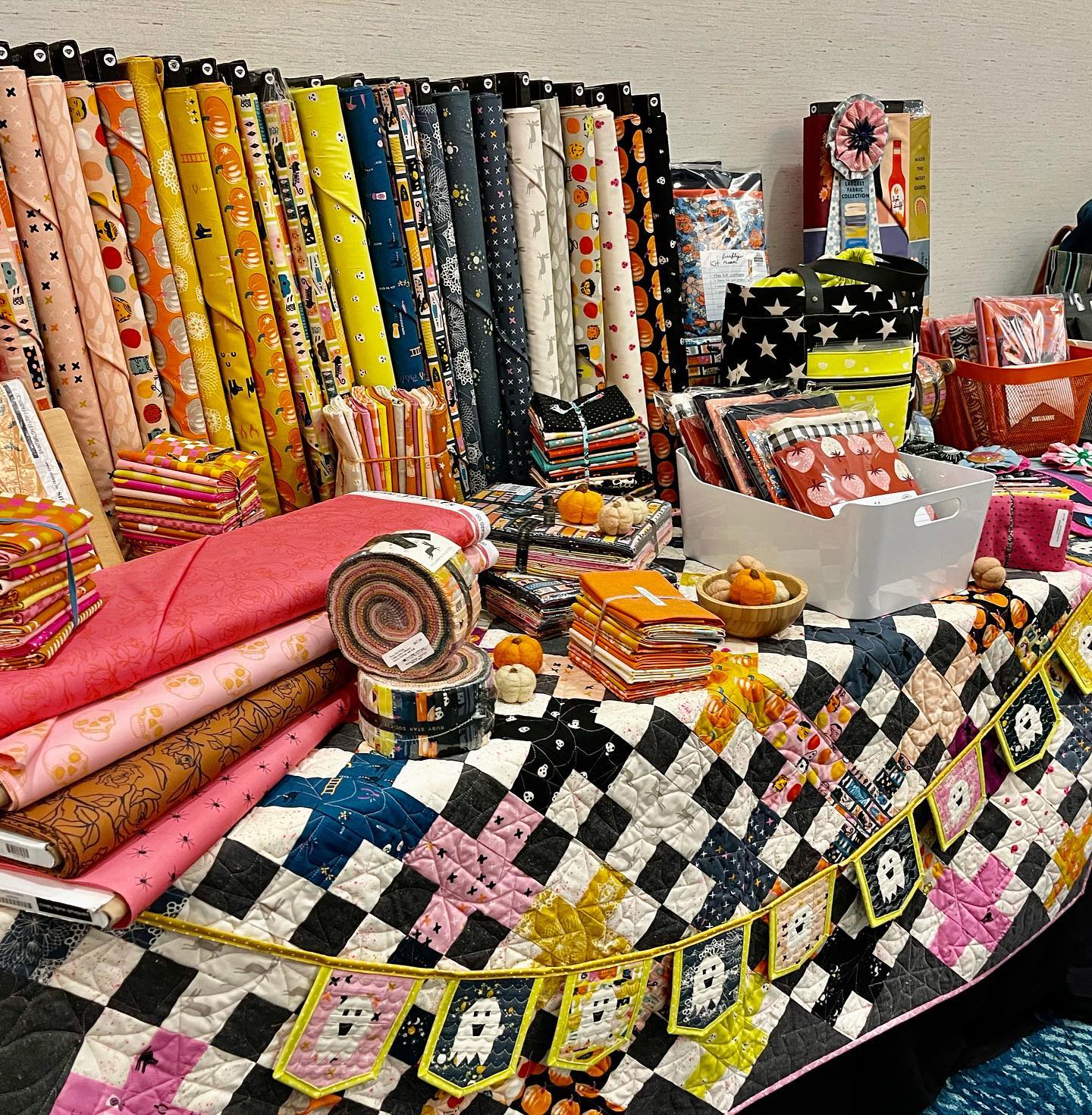 In 2017, Sewtopia opened our online shop then our brick & mortar in December 2020. We continue to stock the shop with new Sewtopia merchandise, notions, and fabrics. We're bringing the shop on the road with a small but mighty pop up full of new fabrics from Ruby Star Society, Figo Fabrics, Cloud 9, Alexander Henry, Windham, Robert Kaufman & more. Make sure to leave some extra room to bring a lot of goodies home!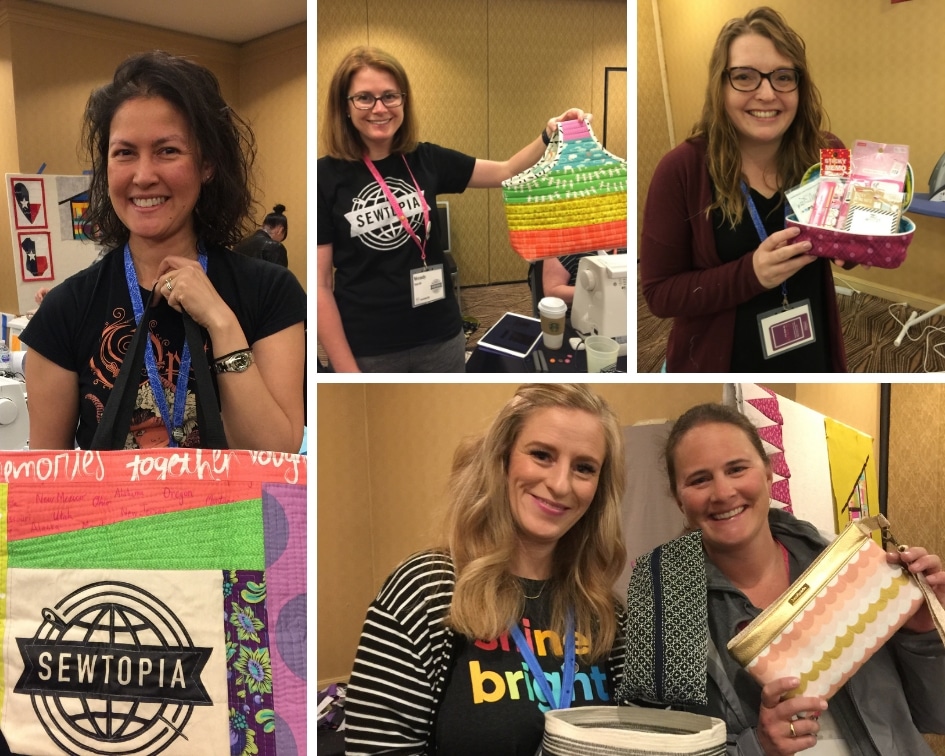 Sewtopia will do one official swap that attendees can participate in. This is a blind swap, meaning we will not assign you a partner. If you bring an item to swap you get one back. This swap isn't meant to be stressful, but please be thoughtful with the effort and skill you put into your HANDMADE gift.
Sewtopia Swap | #sewtopiaswap Check the #hashtag on Instagram for inspiration.
Rules:
If you're on Instagram, please use the #sewtopiaswap so others can cheer you on.
Money limit is $15, don't break the bank!
Bring your wrapped swap gift to Sewtopia at check in.
Make sure there's something saying who it's from like a label or a slip of paper.
Items swapped in the past: pillows, mini quilts, bags, pouches, handmade pincushions, notion cases, tool bags, etc..
Make something that you love, out of fabrics you adore.
The folks of Sewtopia will hand out the swap Friday night after the sewing lounge closes. Your gift will be at your sewing station Saturday morning for you to open.
Don't worry if you don't do the swap. We will hand out gifts only to those who participated.
If you have any questions, email us at [email protected] or post your question in our Facebook Group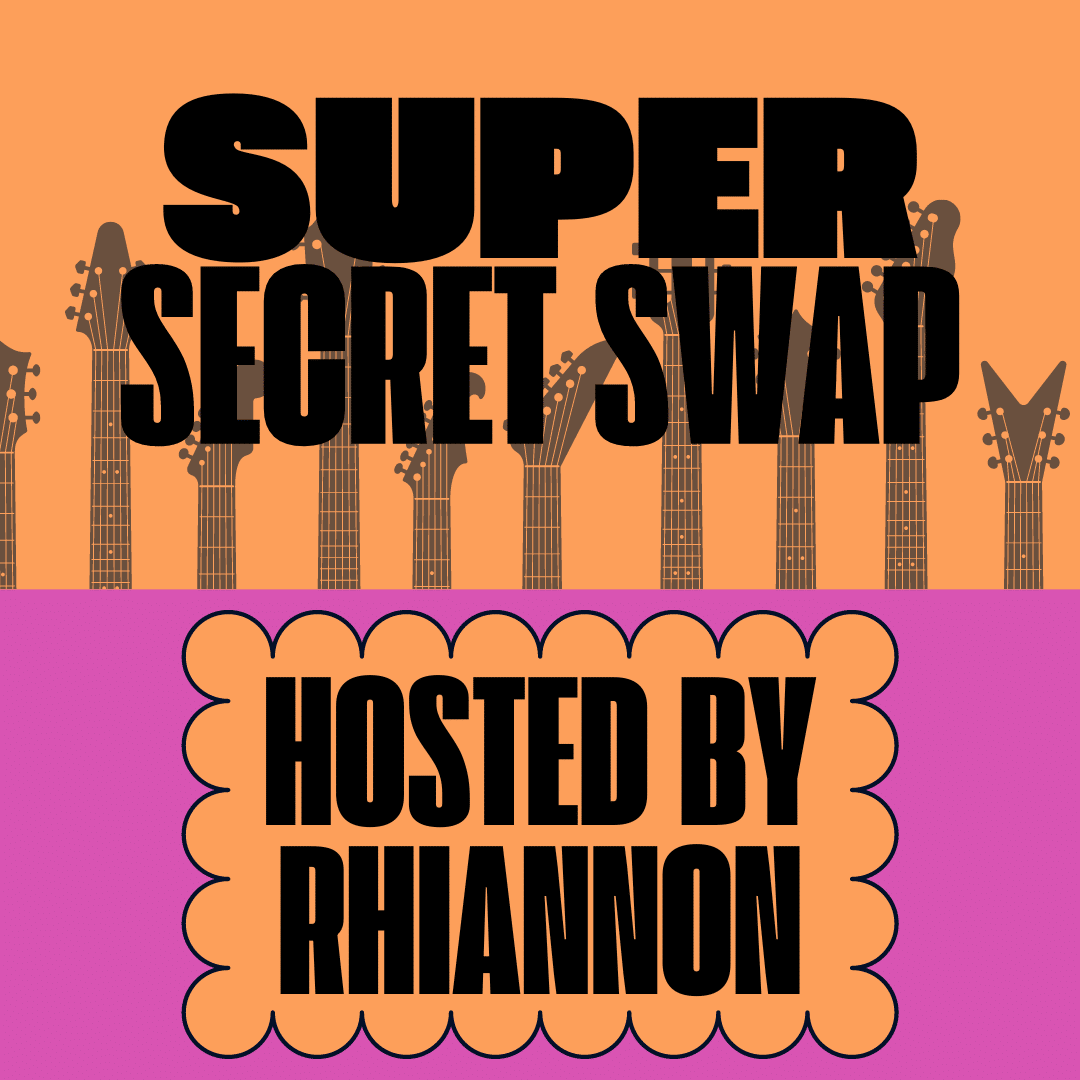 This "UNOFFICAL-OFFICIAL" swap is ran by our fantastic attendee, Rhiannon. Unlike the Sewtopia Swap, attendees sign up for this swap and your swap partner is assigned.
Super Secret Swap | #sewtopiasupersecretswap #supersecretswapnashville Check previous #supersecretswappdx & #supersecretswapatx #hashtag on Instagram for inspiration.
Rules:
There will be a signup form emailed to all attendees 3 to 4 months before the event, where you can sign up to participate.
Once partners are assigned, you must confirm with Rhiannon.
If you're on Instagram, please use the hashtag #supersecretswapnashville so others can cheer you on.
This is a SECRET swap, don't give too much away on social media.
Participants are asked to make a mosaic on Instagram and/or Pinterest to help your partner visualize what you like.
You will be required to make one handmade item; this may be a mini, tote bag, or some other small handmade item, tailored to your partner's likes or desires.
Each participant should spend $10-$15 on extras along with a handmade gift.
One small gift will be left secretly at your partner's sewing station on Thursday or Friday (though you may leave more than one if you like) with the final handmade gift being hand delivered or "revealed" to your partner on Saturday afternoon (sometime after lunch before dinner)
If you're on Instagram or in the Sewtopia Facebook group, please use this hashtag so others can cheer you on and support your creative process.
If you have any questions, email us at [email protected] or post your question in our Facebook Group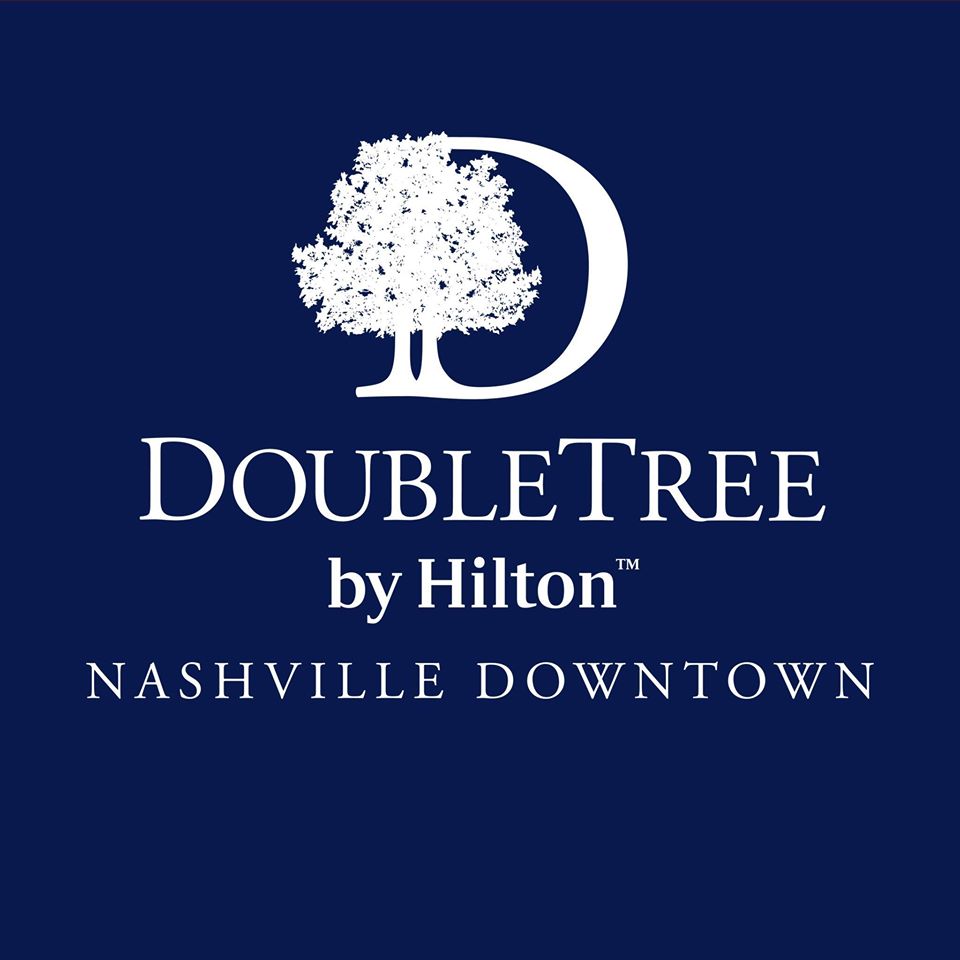 Sewtopia Nashville takes place at the Doubletree by Hilton in Nashville Downtown. This hotel is in the heart of Music City and only a mile away from Nashville Music City Center and the lower Broadway entertainment district.
Hotel Rates:
$269.00 Double Queen Beds (taxes and fees are not included*)
$269.00 King Bed Studio (taxes and fees are not included*)
You can reserve your hotel with this LINK
Closed Airport:
If you're flying in, the airport you want is Nashville International Airport BNA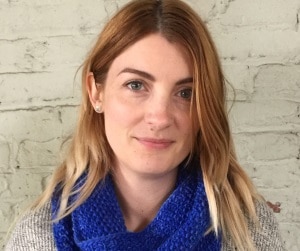 Alexia Marcelle Abegg is multi-disciplined artist. She designs fabric with Ruby Star Society, creates wheel thrown ceramics, sewing patterns, and hand dyed goods. She has taught sewing for over a decade. Her collaborations include Lotta Jansdotter's Everyday Sewing, Queen of Cups Handmade, and Green Bee Patterns. She lives in Nashville TN with her husband and their dog, Olive.