Description
Sewtopia and Karen Lewis have teamed up to invite you to join the Karen Lewis Textiles 2022 Fabric Club. Every other month you will receive a bundle of 6 coordinating hand printed panels by Karen, perfect for a variety of projects. You will receive 3 panels (white printed on color) and 3 panels (color printed on white) each month for a total of 6 palette colors and 36 total panels for your 6 month subscription. Each panel measures 14" x 18". Karen will be giving members a 10% discount on all items in her shop.
This year you can pick cool, warm, or both
2022 Shipping Schedule:*
February - Karen Lewis Full Panels
April - Karen Lewis Full Panels
June - Karen Lewis Full Panels
August - Karen Lewis Full Panels
October - Karen Lewis Full Panels
December - Karen Lewis Full Panels
Note: When signing up you will be charged monthly subscription even though shipment go out every other month.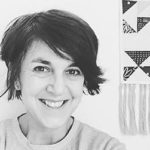 Karen is a screen printer, author of Screen Printing at Home, a Robert Kaufman fabric designer and quilter. Her work is regularly seen in Love Patchwork and Quilting and Quilt Now magazines. As well as running workshops in her home in Leeds, she has taught at the Fat Quarterly Retreat and around the UK, as well as in Denmark and the US, including Quiltcon. Karen is one third of the UK based The Thread House with fellow quilters Lynne Goldsworthy and Jo Avery.
Karen was born and brought up in Leeds, West Yorkshire in the UK where she learned to sew and knit with her grandmother. It was several years later, after turning her back on her formal education and teaching career, that she came back to her crafting roots.
While living and teaching in London, Karen met her husband and together they brought up their 3 children there, but when they moved back to Leeds in 2004 she left her teaching career behind and started her crafting business Blueberry Park. Karen always had a passion for textiles, pattern and color and after a brief silkscreen printing course in 2011, she set about teaching herself more about this technique in order to design her own fabric